Derek Hill is an RCA trained practitioner based in the North East of England with an established reputation for public engagement. Hill founded the Art Studio Sunderland in 1986 and was its Artistic Lead for 26 years until he moved his practice in 2012.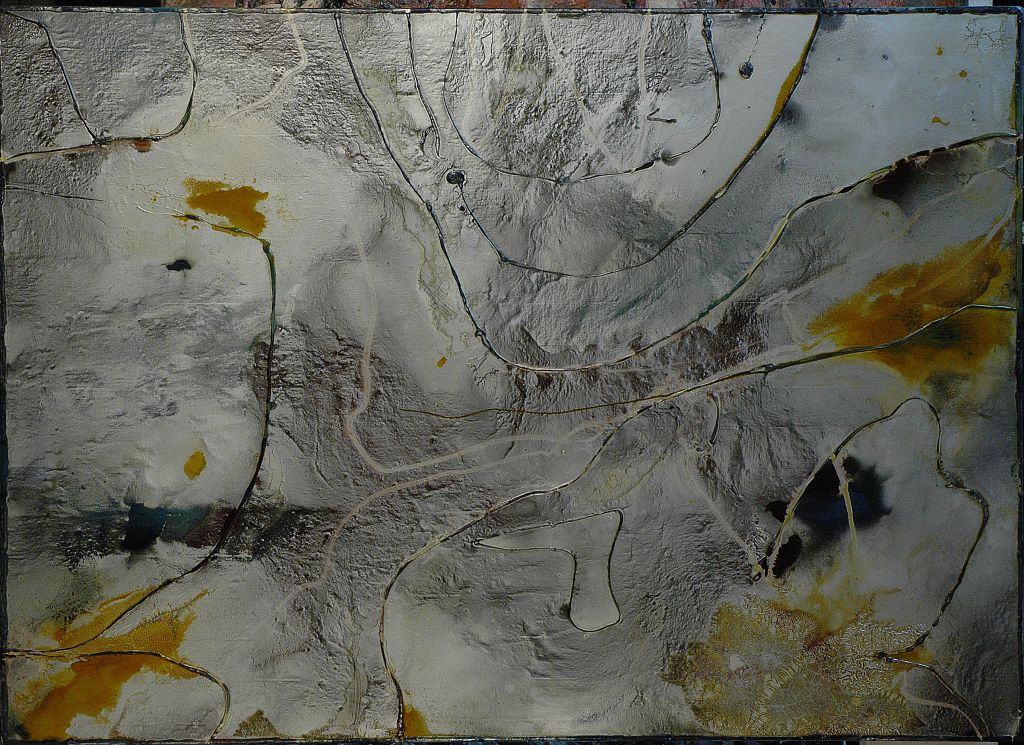 Hill received widespread acclaim for his pioneering work at the Studio, including recognition by The Daily Telegraph/Association of Business Sponsors of the Arts. Arts Council England and City of Sunderland commissioned the installation "book" for the Visual Arts UK Initiative and his work has been exhibited in London, Oxford, Glasgow, Paris, Belgrade. His work is displayed in various private and public collections including the Imperial War Museum, London. He has featured in national publications including the Telegraph, the Observer, the Arts Council's "96 from 96", Arts Review and Flash Art International online magazine.
https://www.derekhill.co.uk/about-derek-hill/awards/
https://www.derekhill.co.uk/reviews-exhibitions/
He was given his first solo show at the Imperial War Museum, London in 1983, with his body of work: 'Victory and Defeat'. He was invited to stage a solo exhibition of paintings from his ongoing project, 'Flaw', at the Bracknell Gallery, Southill Park, Bracknell and at the Myles Meehan Gallery in Darlington.
https://www.derekhill.co.uk/work/cat/flaw
https://www.derekhill.co.uk/wp-content/uploads/2018/01/FLASH.docx.pdf
https://www.axisweb.org/p/outiremes/workset/200581-flaw-the-new-work-by-derek-hill/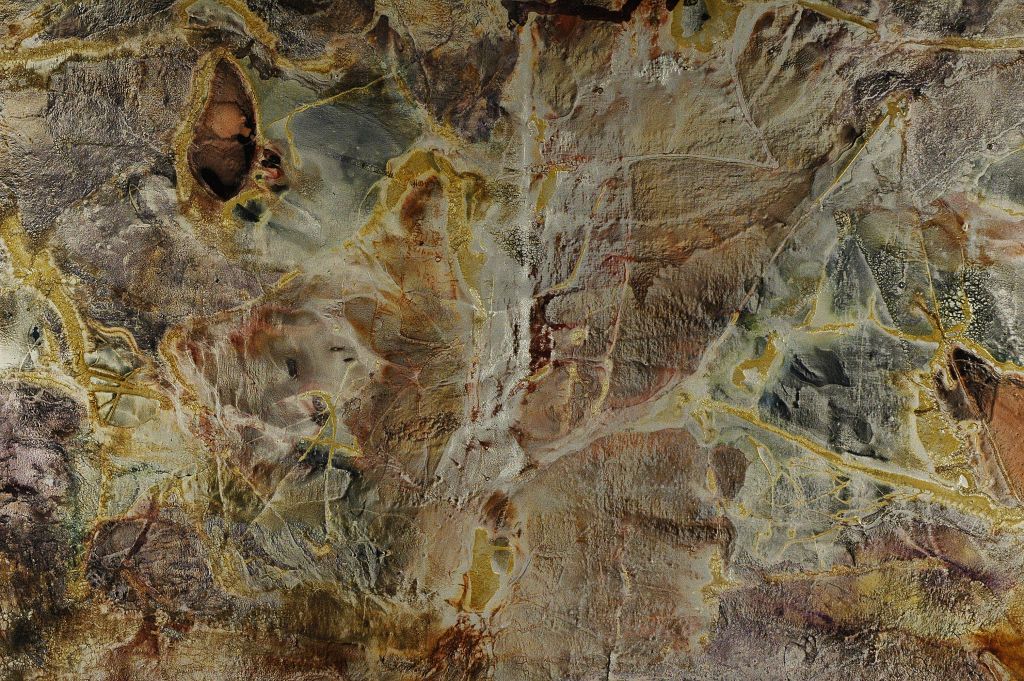 Flaw- Oil on canvas 2.5 x 3metres
Flaw' and other works. "Derek Hill works like an alchemist. His studio is a magical place where he conducts his experiments. It is a cavernous roof space with alcoves and wooden stairways on every side. Overhead is a tangle of huge wooden beams with an occasional fluttering pigeon, and in the middle is a great irregular space. Paintings are everywhere. They are slotted in rows into every alcove. They cover the floor on sheets of polythene. On the narrow strips between them are pots and tools, and there's not much room to walk.
Derek's alchemy consists in making combinations from his remarkable storehouse of materials, and in deploying his immense compendium of techniques. His images are drawn, poured, and painted in a meticulous sequence of actions balancing chance and control. Some of his canvases are like microscopic biological processes expanded to a massive size. Others appear to be vast geographical processes made to happen in a few square feet. They are lucid and mysterious, generous and intense, majestic and, literally, wonderful." J Millard (Former Manager, Liverpool and Newcastle Museums).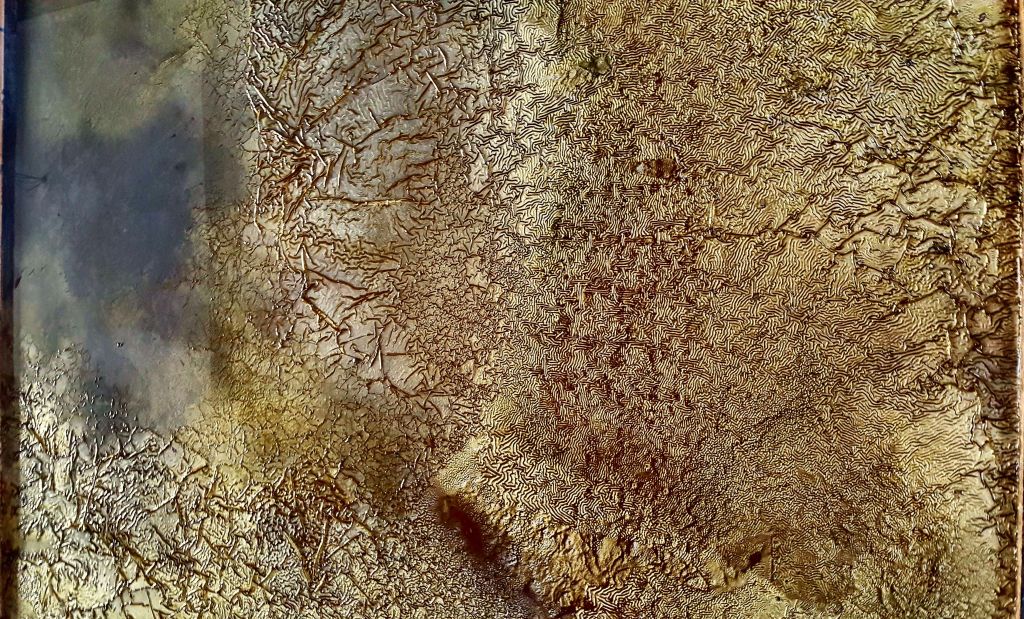 Since 2016, Hill has been working with scientists on 'Shifting Worlds' – a project still in progress. A selection of his recent paintings and films are currently showing at the Centre for Bacterial Cell Biology (CBCB) Newcastle University.
https://www.ncl.ac.uk/cbcb/about/engagement/
https://www.thecrackmagazine.com/view-editorial/6880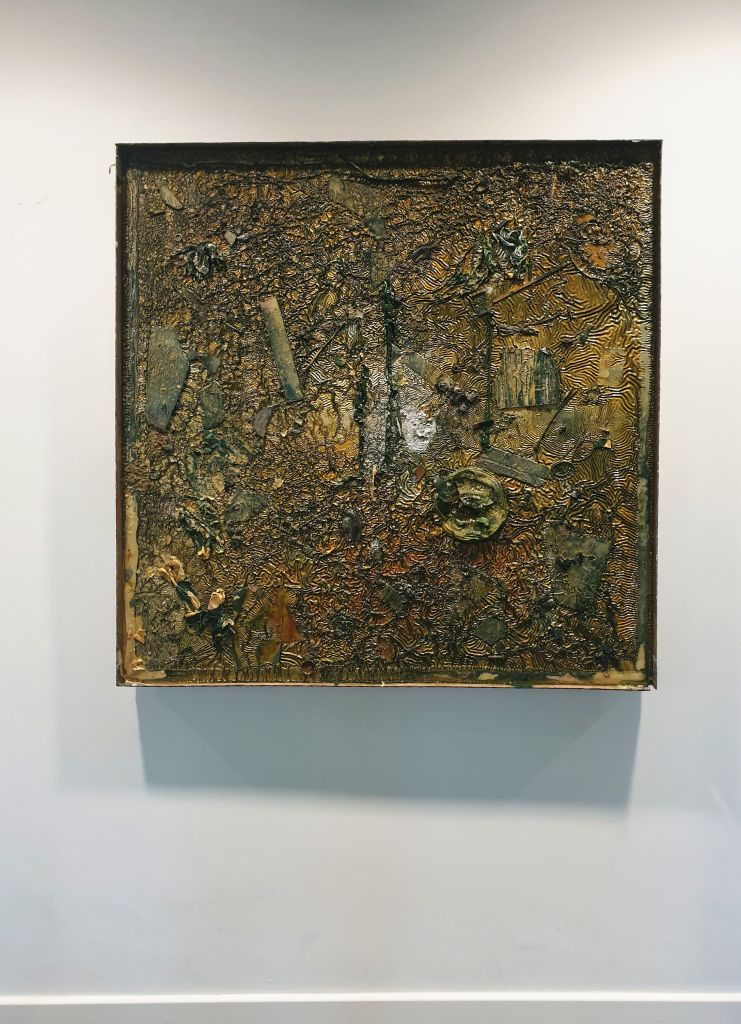 Oil on canvas 0.9 x 0.9m
https://www.youtube.com/playlist?list=PLEaXqBBNmccqIWlSfvFIDI9xUzy1doF3C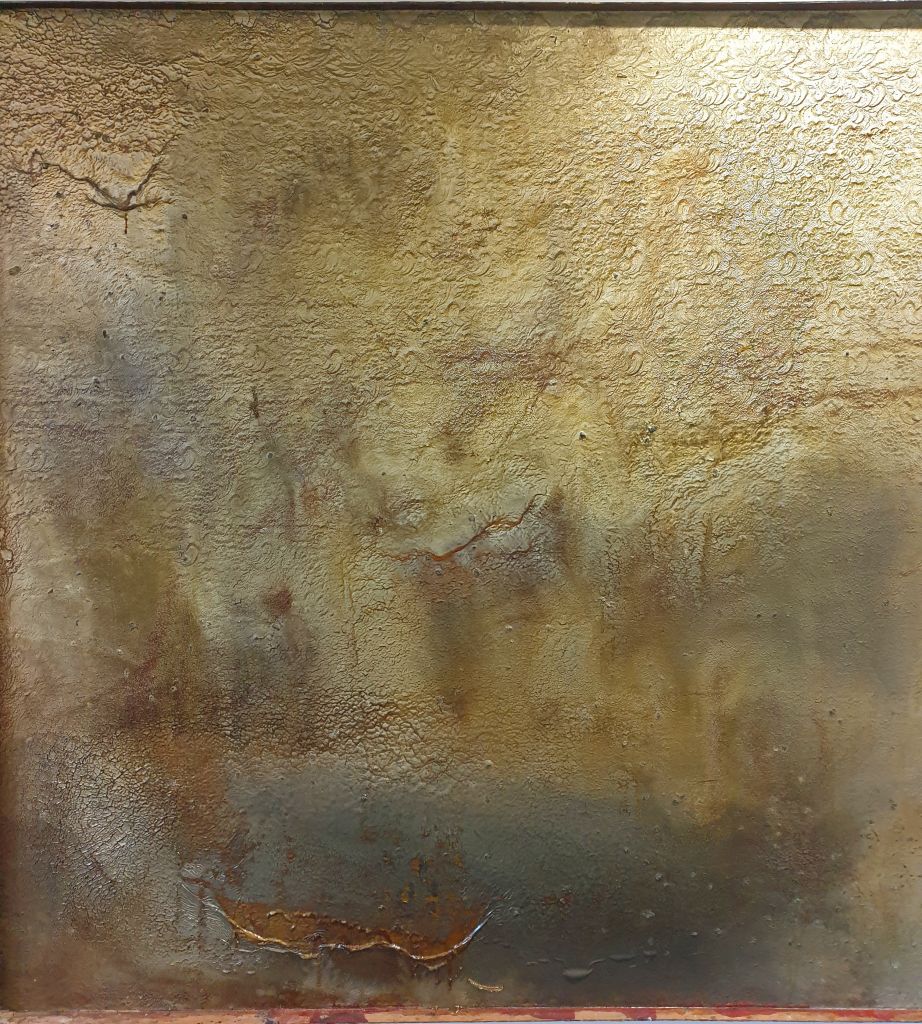 oil on lace on canvas 1.8 x 1.8 metres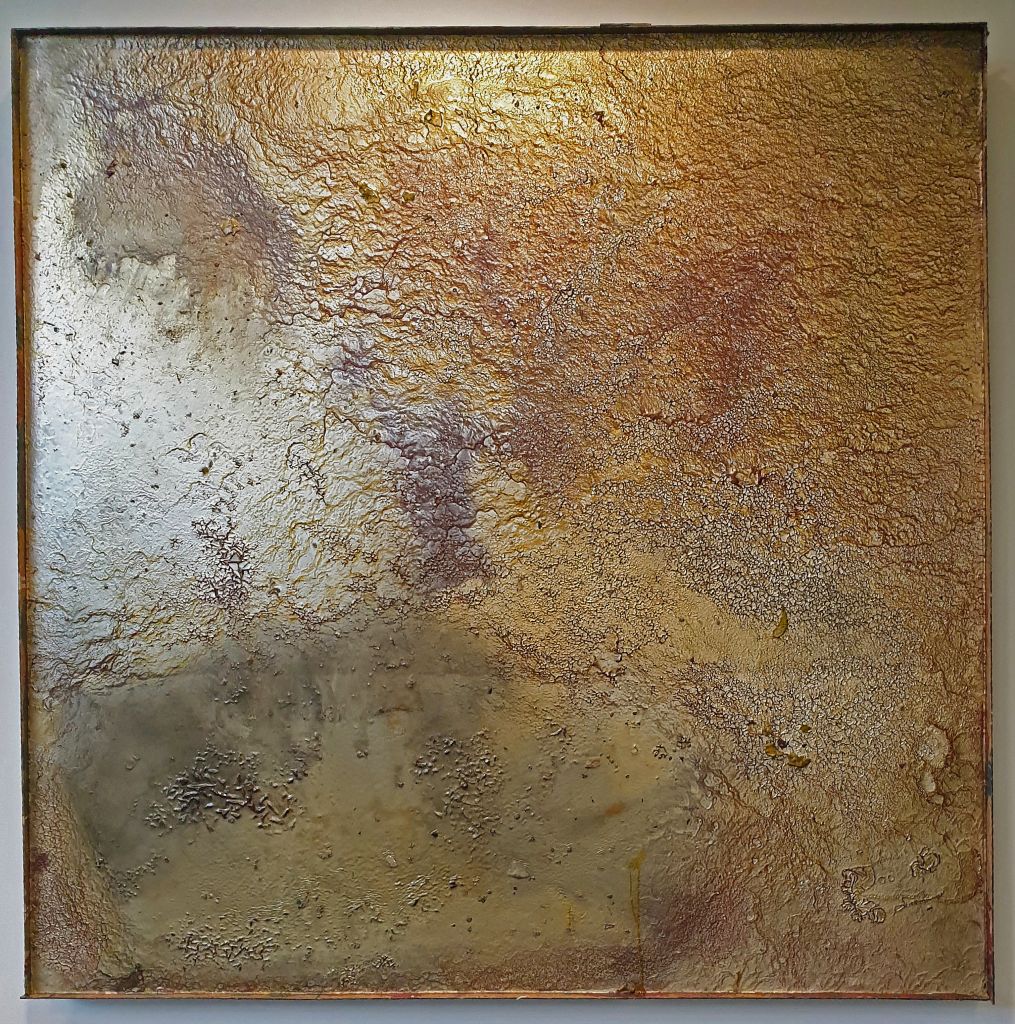 oil on lace on canvas 1.8 x 1.8 metres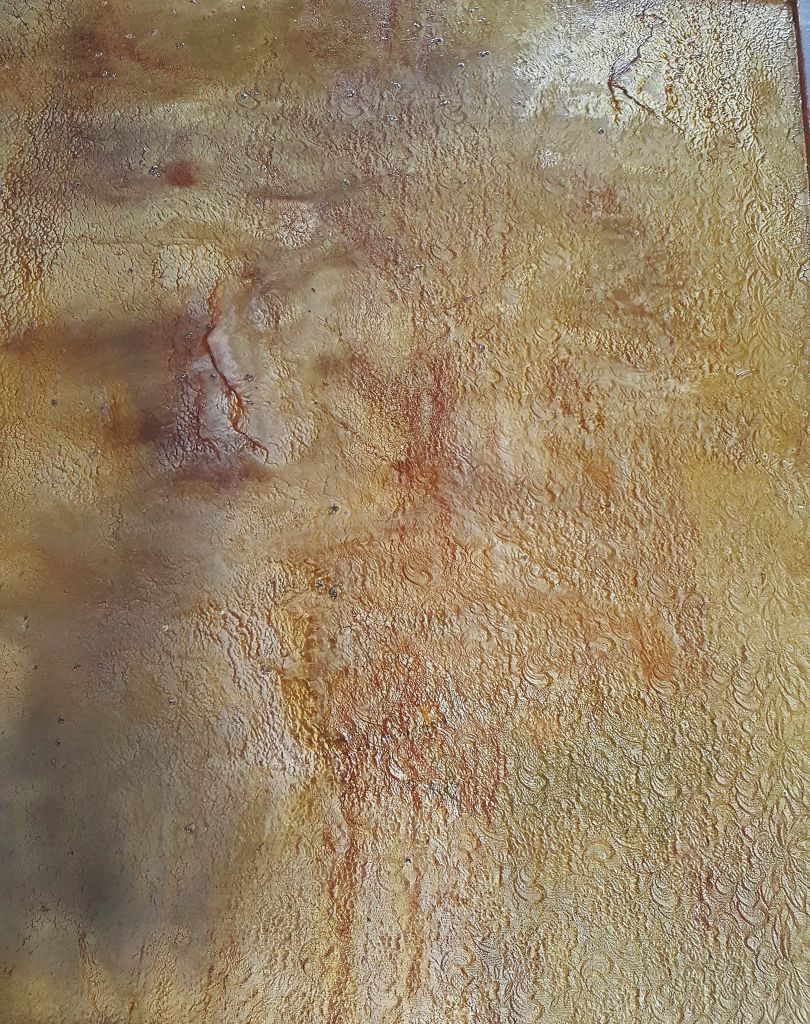 Current: from the series 'Flaw' 2018 – 2019.  Oil on lace on canvas.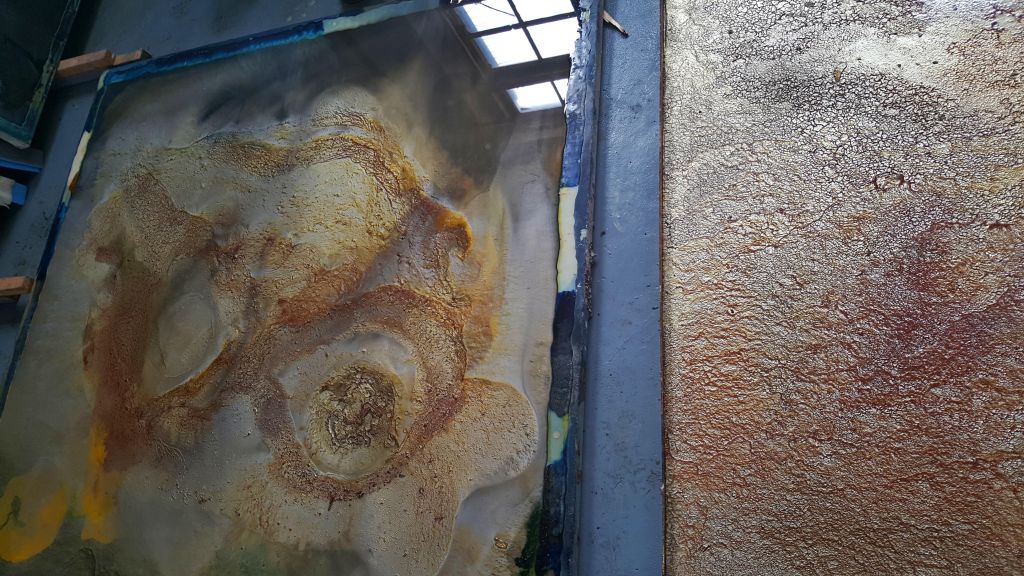 Current: from the series 'Flaw' 2018 – 2019.  Oil on lace on canvas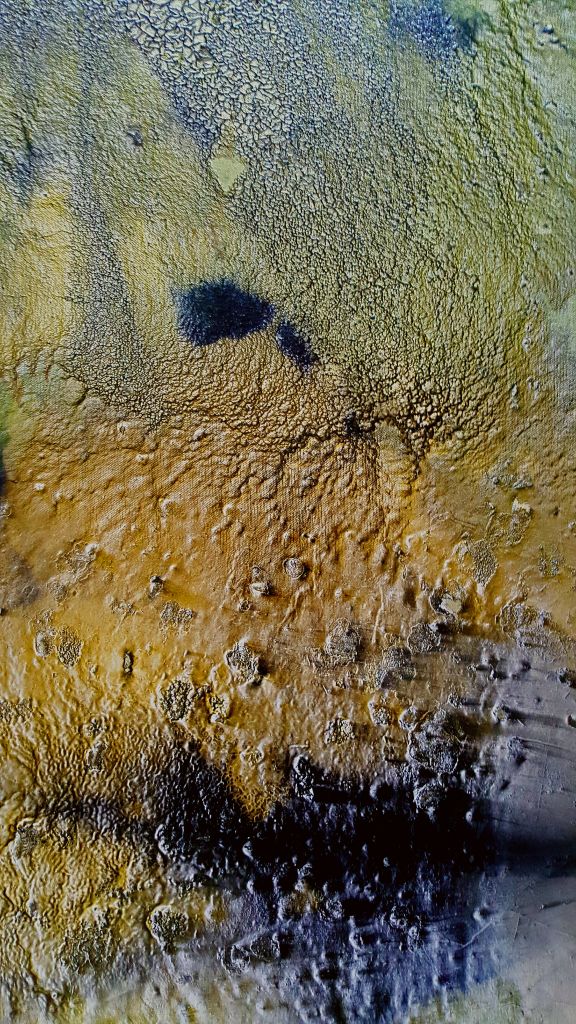 Current: from the series 'Flaw' 2018 – 2019.  Oil on lace on canvas
https://www.derekhill.co.uk/work/cat/flaw