Derek Hill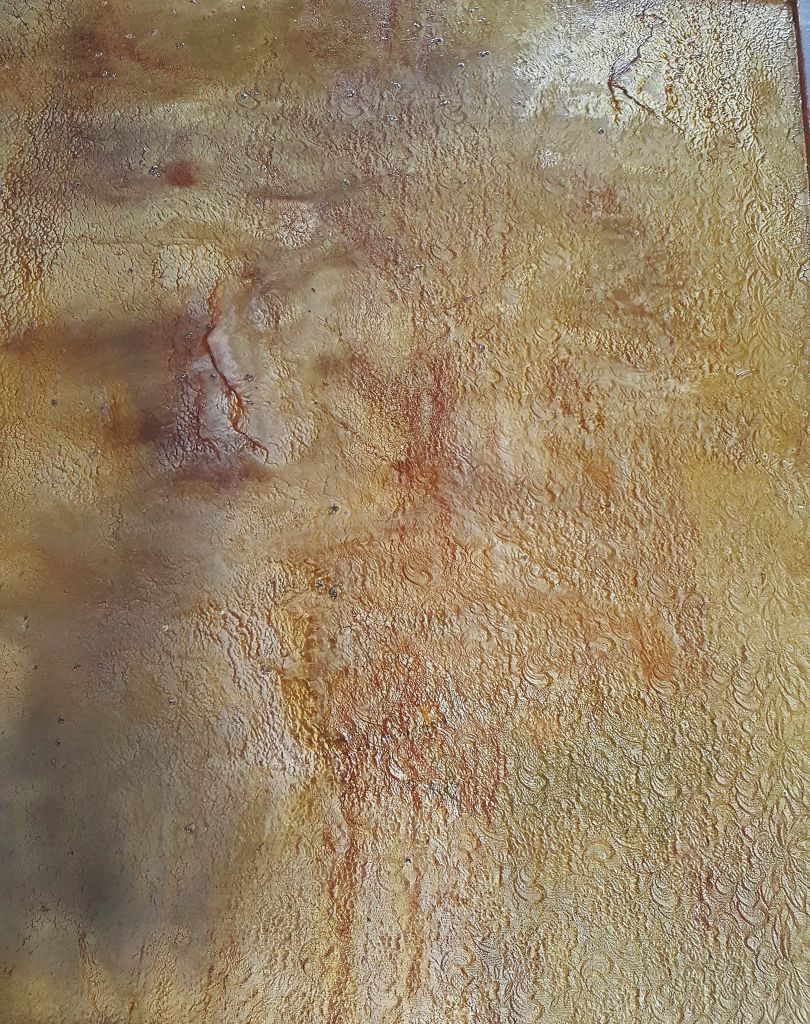 Current: from the series 'Flaw' 2018 – 2019.  Oil on lace on canvasoil on lace on canvas 2018                                     
"Derek Hill works like an alchemist. Derek's alchemy consists of making combinations from his remarkable storehouse of materials, and in deploying his immense compendium of techniques.  His images are drawn, poured, and painted in a meticulous sequence of actions balancing chance and control.  Some of his canvases are like microscopic biological processes expanded to a massive size.  Others appear to be vast geographical processes made to happen in a few square feet.  They are lucid and mysterious, generous and intense, majestic and, literally, wonderful." – John Millard, from 'Flaw', currently in progress.
Derek Hill is an RCA trained visual artist, currently based in the North East of England. He founded the Art Studio, Sunderland and was its Artistic Lead for 26 years until 2012. Hill received widespread acclaim for his work, including recognition by The Daily Telegraph/Association of Business Sponsors of the Arts, (ABSA). Arts Council England and the City of Sunderland commissioned the installation; 'book' for the Visual Arts UK Initiative.
He was given his first solo show at the Imperial War Museum, London in 1983, with his body of work: 'Victory and Defeat'. Since then he has exhibited independently in the UK and with the Art Studio, including at, Spitalfields and Barings Bank, London. He was invited to stage a solo exhibition of paintings from his ongoing project, 'Flaw', at the Bracknell Gallery, Southill Park, Bracknell and at the Myles Meehan Gallery in Darlington. His art is displayed in various public and private collections including the Imperial War Museum, London. He is featured in national publications including the Telegraph, the Observer, the Arts Council's "96 from 96", Arts Review and Flash Art International online magazine.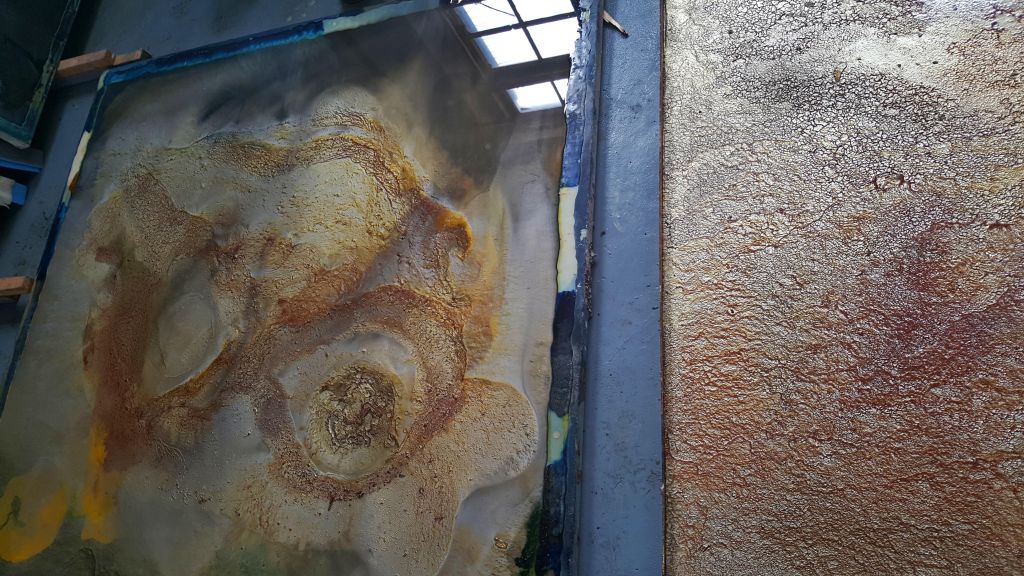 Current: from the series 'Flaw' 2018 – 2019.  Oil on lace on canvas
'In "Flaw," Derek Hill presents a series' of abstract paintings that are produced through a wide range of methods and media. Hill uses the combination of industrial chemicals and oil paints to create monstrous compositions that suggest organic processes and biological forms.  There is a strong industrial grounding to the work, which glistens throughout, but the displacement of the oils in the pigment at times imbues the work with darker connotations, reminiscent of oil spills or discarded footprints of a post-industrial world. The multiple layers are produced with uncompromising patience, creating luminosity and translucency. In other paintings, such as Untitled V, Hill displays a more painterly approach, staining the canvas to produce hues with great depth, taking on the qualities of aerial photographs.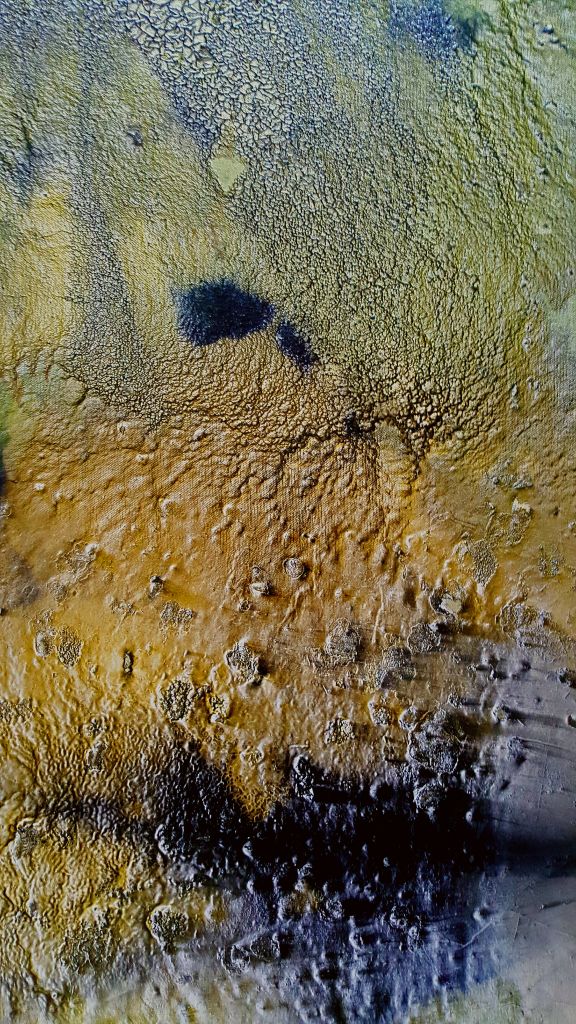 Current: from the series 'Flaw' 2018 – 2019.  Oil on lace on canvas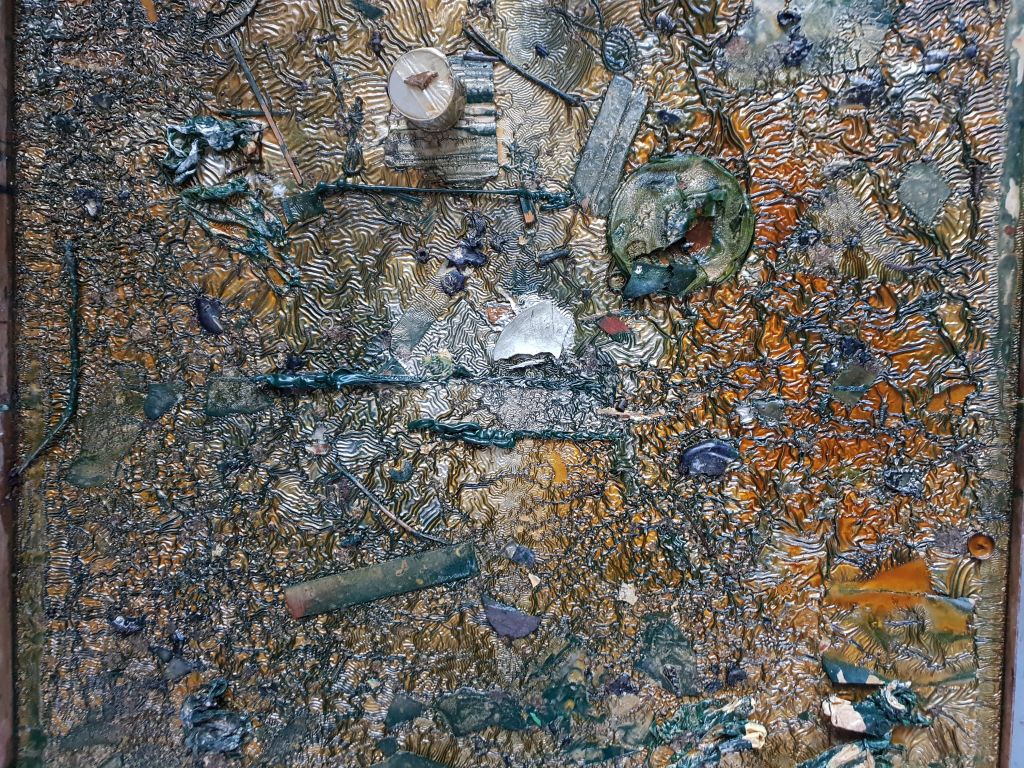 Current: from the series 'Flaw' 2018 – 2019.  Oil and flotsam on canvas
The autobiographical nature of the series is expressed strongly by Hill, the inspiration being rooted in a near-fatal tropical illness, streptococcus septicaemia, which he contracted whilst travelling extensively. As Hill states: "The infection I picked up was rare and one which almost claimed my life and has been a key source for my artistic practice ever since." Indeed, the displacement of the oil on the paintings' surfaces form tessellations that could have originated in biological Petri dishes. This also reminds us of the biological nature of paint and oil, which sit together with unease on the canvas, separated into their own colonies, sharing space, but never intruding into each other's domain.'
Davy Smith, Flash Art International